Building God's Kingdom
with People who are Serious
about the WAY they Live
The Arise Shine Chapel

is a family of Christian believers who are encouraged in a deep and living walk with Jesus and who believe in faith for each other. They have responded to a deep longing in their hearts for the fire of the Holy Spirit. Perhaps you also have felt that longing, a hunger placed there by God, because God is drawing you to a place of closeness and depth with Him you once knew. You need a church home that will help feed that hunger.
The Arise Shine Chapel

can not only be your church home but is literally a home-based fellowship. Meeting in the friendly and intimate setting of a comfortable home, the believers of this fellowship worship, pray, and learn together. We are confident that this setting can be a blessing to those of you who are looking to return to the form of fellowship enjoyed by the first Christians.
We often encounter people who wonder if there are any left who remember how church used to be. The church used to be a place of power, miracles, prophesy, prayer, and the anointed preaching of the Word. But for many today's church may be too "relevant": the music may be unfamiliar, the style a bit too informal, the emphasis too modern. The Arise Shine Chapel values tradition, but we value even more the moving and leading of the Spirit of Jesus.

The Arise Shine Chapel

still believes in releasing God's mighty power by His Spirit and the Holy Spirit manifests Himself in our meetings in surprising, amazing, and fulfilling power. We pray in that power, preach in that power, prophesy in that power, and believe that power to always do great and mighty things.
The Bible says, "In the last days perilous times will come" and indeed it is proving to be so. Yet this is a time when the people who know their God will do great things in the Spirit. The Arise Shine Chapel will teach you a reality about these last days that will prepare you for the challenges to come and equip you for ministering. We believe we were prepared for such a time as this. We invite you to join with us in building God's Kingdom with people who are serious about the way they live.
Dr. Alan and Sarah Gordon, pastors of The Arise Shine Chapel, have almost six decades of combined ministry, business, and government leadership. Dr. Gordon has authored hundreds of series on New Testament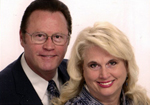 teachings and they have ministered the Gospel on four continents and in numerous countries. At The Arise Shine Chapel you will find pastors who not only know and love you, but who also have the experience to lead you and to prophesy destiny into your life.
We invite you to visit The Arise Shine Chapel to experience the fire and intensity of the Spirit of Jesus. He is waiting to propel you further into your destiny with Him and we are waiting to help you to ARISE and SHINE and walk out this Living Way with you.
Your servants for Jesus sake,
Dr. Alan and Sarah Gordon
Arise, Shine Ministries
(817) 599-8910